Today is April 5th, also known as,
One Day Without Shoes
, by any of you who are aware of TOMS shoes and their advocacy efforts. This is the day that hundreds of thousands of people across the world are taking off their shoes to raise awareness for the plight of children around the world who don't have shoes.
My organization partners with TOMS to distribute shoes in some of the countries where we werk. This is a fact that I am really proud of, simply because I think the TOMS shoes model is pretty much pure genius. People feel cool about spending $50+ on a pair of simple canvas shoes because they know that they are also buying a pair of shoes for some kiddo in Haiti who wouldn't be allowed to go school barefoot. Shoes solve lots of problems (see below).
As the.home.werker, it's easy for me to go without shoes...or slippers! I'm not really raising any eyebrows by sitting on conference calls from the comfort of my home office...barefoot. So, I'll dedicate today's blog post to any of you who might not be aware of what's going on today in America, and every day in poor countries around the world where kids don't even have access to one of the most basic items: shoes.
Here are some facts that might just blow your mind a little bit:
Many children in developing countries grow up barefoot. Whether at play, doing chores or going to school, these children are at risk:
•A leading cause of disease in developing countries is soil-transmitted diseases, which can penetrate the skin through bare feet. Wearing shoes can help prevent these diseases, and the long-term physical and cognitive harm they cause.
•Wearing shoes also prevents feet from getting cuts and sores. Not only are these injuries painful, they also are dangerous when wounds become infected.
•Many times children can't attend school barefoot because shoes are a required part of their uniform. If they don't have shoes, they don't go to school. If they don't receive an education, they don't have the opportunity to realize their potential.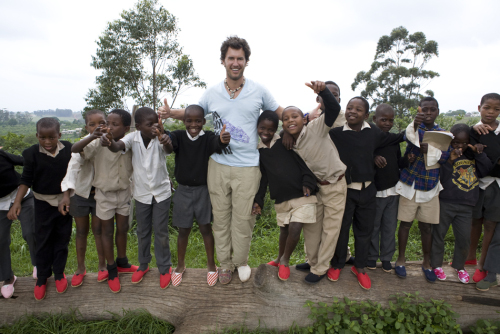 TOMS shoes founder, Blake Mycoskie, at a shoe drop in Ethiopia.